Mobile Collaboration - Logging on
Requirements:

iOS version 9.0 or higher (iOS 12)
Logging in to the iOS or Android mobile app requires you to enter the system domain name, extension number and password and then press the TICK next to account. Alternatively, you can sign in using your Office 365 or Google Single Sign On credentials if enabled by your administrator.

Launch the app:
You can use Google/ Office 365 credentials for single sign-on.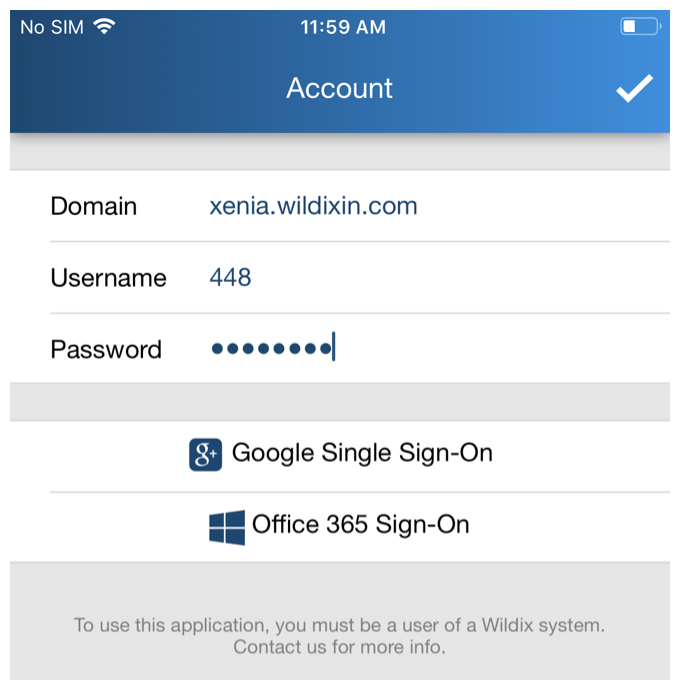 Two-factor authentication (2FA)
It is possible to use 2FA authentication for login. The option can be enabled in Collaboration -> Settings -> Personal.

Thanks to push notification, the app no longer needs to run all the time. Once you receive a call / a text, the app "wakes up" in the background, even in case the app was closed.
Note: you can also receive push notifications to your Apple watch. Go to iPhone Watch
-> Notifications -> Collaboration
and enable receiving notifications. Show app on Apple watch
To deactivate access to Presence and SIP server and to stop receiving notifications, you can set the status to Offline or log out from the app.
Related Articles

Android Mobile Collaboration - Logging on

Requirements: Android OS: 4.0 or higher Logging in to the Android mobile app requires you to enter the system domain name, extension number and password. Alternatively, you can sign in using your Office 365 or Google Single Sign On credentials if ...

iOS Mobile Collaboration - Settings

Account: login window Personal: contact details E-mail mobile number Features by call class (Internal, External, Blacklist, Whitelist) Activate class: available for External / Blacklist / Whitelist (activates the class) Call reject: if enabled, you ...

Wildix collaboration - Two-factor authentication (2FA)

Via external application Steps to enable 2FA: 1. Download an external application to your smartphone that generates one-time passwords 2. Click on the Pencil icon In Collaboration Settings -> Personal, near "Two factor authentication" 3. Open the ...

iOS Mobile Collaboration - Logging Out

Tap Settings -> Account Tap the Log out icon: ​

iOS Mobile Collaboration - Menu Description

1 - Contacts 2 - Call history 3 - Dialpad/ Function Keys/ Active call 4 - Chat 5 - Settings