Unify - CP200 & CP205 Overview
The OpenScape Desk Phone CP200/CP205 is an uncompromising value phone for easy entry into VoIP telephony. It has a headset socket and four programmable function keys. The keys are pre-programmed with 'conversations',' people ',' forwarding 'and' redial '. However, they can also be configured as a four line keys for example. The focus on essential functions makes the CP200/CP205 an ideal companion for CTI supported workstations. In addition, the phone has fixed function keys for 'hold', 'transfer' and 'conference' to quickly interact with the call party. This phone already supports AudioPresenceTM, our trademark for HD audio.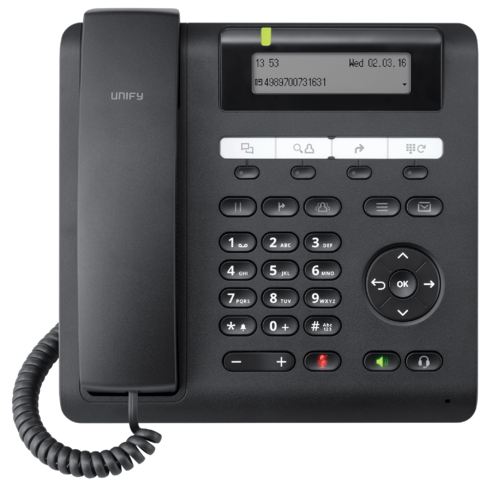 The OpenScape Desk Phone CP205 brings Gigabit Ethernet and Energy Efficient Ethernet together with the capabilities of the OpenScape Desk Phone CP200 for a cost effective entry device. The focus on essential functions makes the OpenScape Desk Phone CP205 a cost-effective companion for customer environments where additional LAN-bandwidth is required.
Graphical display, 2 lines (192*48 pixel), monochrome
Notification LED
4 free programmable feature keys with LED, Pre-programmed with: Call Log, Directory, Forward, Redial
5 fixed feature keys, 3 with LED Hold, Transfer, Conference, Settings, Messages

4-way navigator, plus OK-key
3 audio keys (Mute/Speaker/Headset) with LED
Volume control +/-
Open listening / Handsfree talking (Full-duplex)
Headset port (DHSG/EHS)
10/100 Base-T Ethernet Switch
IEEE 802.3af Power over Ethernet, class 1
Wall mountable
Most significant improvements of the OpenScape Desk Phone CP205 compared to the OpenScape Desk Phone CP200:
Gigabit Ethernet Ports (10/100M/1000Mbit/s)
Energy Efficient Ethernet (IEEE 802.3az)
Related Articles

Unify - CP600 & CP600E Overview

The CP600/600E is designed for the collaborative workplace. The consistently paperless design is particularly suitable for mobile workers or environments. The base unit is optimized for single line usage. The Favourites menu allows the user to ...

Unify - CP400 Overview

The CP400 is the midrange phone for the budget-conscious, professional user. Even the basic unit has 16 programmable function keys with tri-colored status indicator. It can be expanded with up to two Key Modules KM400 with 16 function keys. The paper ...

Unify Handsets Error Codes and what they mean

Occasionally your Unify handset may lose connection to the system for a variety of reasons. When this happens, the message "Telephony is down" appears on the screen. After this is an error code. These error codes let us know what the problem is and ...