Screen Sharing and remote control
OS requirements (for presenter)

Mac OS X 10.11 and higher


Windows XP and higher

Download and install the component:

Collaboration -> Settings -> Extensions, "Screen sharing component"

Start Screen Sharing

Open a chat session with a user


Click on More actions (three dots) button -> Screen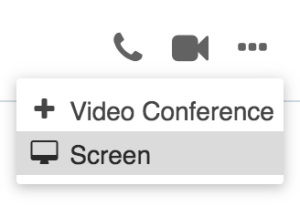 3.Screen sharing launches (screen sharing icon is displayed on the menu bar of your PC) and a red border around the screen indicates its start

4.
The other party must accept incoming screen sharing stream:

Viewers can see mouse movements/ pointer during screen sharing stream (available starting from Screen Sharing version 3.2.3).

Popups (if enabled) notify you each time viewers are connected and disconnected.

Screen sharing on macOS

Due to the Apple security updates, it is required to add Wildix Screen Sharing App to Security & Privacy permissions upon the first launch:

1. Mac OS X 10.12 and higher:

When screen sharing is launched, the following notification is displayed:

Click Open Preferences Pane to access Security & Privacy tab

Click + to add the component to permissions

Select Wildix Screen Share from Application and click Open

2. MacOS 10.15:

Start screen sharing during a call:

Select Other -> Screen in a call dialog

Select the application to share:

Enable remote control

Remote control is disabled by default starting from Screen Sharing version 3.1.3.
Note: Remote control on macOS Mojave

In order to allow remote control on macOS Mojave, you need to add Wildix Screen Share to your laptop's permissions:

Go to System preferences -> Security & Privacy -> Privacy

Click Accessibility and check Wildix Screen Share to allow remote control

Monitor selection

If you have extra monitors connected to your PC, you can select the monitor from the menu bar: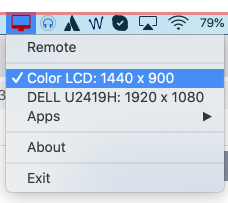 Screen sharing management

Screen sharing to multiple users is supported.

See who is connected and stop screen sharing:

1. Select Other in the top menu -> Screen sharing manager:

2. You can see the viewers who are currently connected:
Click X in front of the viewer to disconnect this user


Click Stop to disconnect all users